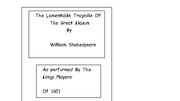 The Great Klaxon Was a three-act Play written in 1600 By William Shakespeare.
The Play is one of the lesser known tragedy plays, along with Titus Andronicus and Troilus and Cressida.
The Play was well recieved, However, fell into decline after it's more fantastical themes were put on the "back burner."
Alloius Klaxon, A being from another world, has come to earth in search of saving his existance, He infiltrates the king's guards man.
His reverence and pride, as the 'Great Klaxon' on his own planet, he tries to take the Princess as his own.
The King, Unknowing of the guards status on his own planet, Kills him, and then, the decline of his race finishes, making humans, finally, alone in the universe.
Perfromances
Edit
Royal Shakespeare Company
Edit
1999 - Dir: Trannas Alous
Klaxon - Liam Housendaous
Princess Fairylegs - Jean Clearnose
King Francis - Lee Tarvey
Sir Proudbolox - Graham Itzoff
Sir Loudgob - Yoh Yahha
Clown - Theirry Mallazh
Saviour - Alouis Plantano
Ad blocker interference detected!
Wikia is a free-to-use site that makes money from advertising. We have a modified experience for viewers using ad blockers

Wikia is not accessible if you've made further modifications. Remove the custom ad blocker rule(s) and the page will load as expected.