Sky10 is the current version of the Sky operating system .
New Features
Edit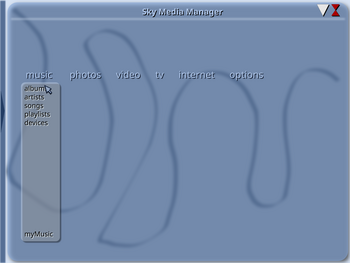 Blur user interface - the new "Blur" GUI will remove all desktop components (icons, buttons, StarBar, ect.) with the Sidebar as the main access point for every program and file on the system. The windows will be translucent (40%), as well as the Sidebar. There will be many themes, including:

Black & White
Ocean Blue
Orange Energy
Forest Green
Fire Red
Cream White
Sky VirusScanner - a built in virus scanner.
Sky Media Manager - the new media center to replace PLAY.
ShadowFont - new font design with theme-appropriate shadows.
Pearl browser - Sky's newest browser.
SVG interface - the first version of Sky to completely use Scalable Vector Graphics in its user interface.
Ad blocker interference detected!
Wikia is a free-to-use site that makes money from advertising. We have a modified experience for viewers using ad blockers

Wikia is not accessible if you've made further modifications. Remove the custom ad blocker rule(s) and the page will load as expected.