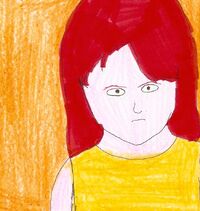 Melissa Sarah Walboard (better known as Melissa Walboard and born Melissa Sarah Kalgarron on 5 June 1993) is an actress best known for playing Emily Brimm in Christmas for the Brimm Family. She is the adopted daughter of actor Gabe Henry Walboard.
Early life
Edit
Walboard was born on June 5, 1993, to Philip and Sarah Kalgarron. Both of her birth parents died in an automobile accident in 1997, when Melissa was four. She was adopted by actor Gabe Henry Walboard, who was a close friend to her father. Walboard attended public school with actors Jord Salleys and Martin Brixley. In 2004, she was taken out of public school and homeschooled, due to classmates teasing her[1].
Walboard began acting in 2003, when she appeared in the film Mak Brimmer's Crew as Yvonne Brimmer. She went on to make guest appearances on television series such as Hangin' Out with Petey (2004), The Jordsons (2006), Parkstown (2009), and more recently, The Life in Phillipsburg (2010). Her most notable role as of yet came in 2005, when she was cast in the film Christmas for the Brimm Family.
Filmography
Edit
Television
Edit
References
Edit
↑

"Interview with Gabe Henry and Melissa Walboard, 2005
Ad blocker interference detected!
Wikia is a free-to-use site that makes money from advertising. We have a modified experience for viewers using ad blockers

Wikia is not accessible if you've made further modifications. Remove the custom ad blocker rule(s) and the page will load as expected.